Riding GoLine
General Information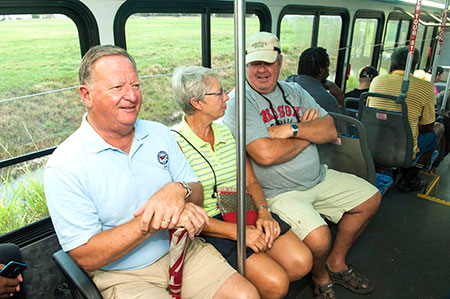 GoLine is the Indian River County public transportation system with bus service on 14 fixed routes throughout Indian River County. Riders take GoLine buses to work or school, to medical appointments, grocery stores, to the mall, to the beach and to dozens of other locations throughout the area. For additional GoLine information, compliments, or complaints please call GoLine at: (772) 569-0903, Monday through Friday from 7:00 a.m. to 6:00 p.m.
GoLine buses operate weekdays from 6:00 a.m. through 7:00 p.m. In addition, Saturday service is offered from 8:00 a.m. until 5:00 p.m. Riders under the age of 12 must be accompanied by an adult and all passengers must be able to board, disembark and carry their own packages on and off the buses. Instead of a charge to ride the bus, GoLine passengers are encouraged to make a donation to help support the bus system.

All GoLine vehicles are wheelchair accessible.
The GoLine System does not operate on Thanksgiving, Christmas, or New Year's Day. On other holidays, GoLine routes follow the regular schedule.
GoLine passengers should arrive at the bus stop approx 5 minutes before the scheduled pick up time and stand next to the bus stop sign. The driver will only stop at the bus stop sign.
GoLine passengers must be able to carry all purchases on and off the bus in one boarding. Large items that block the aisle or must be carried overhead are not permitted.
GoLine bus drivers are not permitted to deviate from the scheduled route.
In accordance with the provisions of ADA, this document may be requested in an alternative format.
A door-to-bus stop connector is available for riders without access to a GoLine bus stop.
Riding GoLine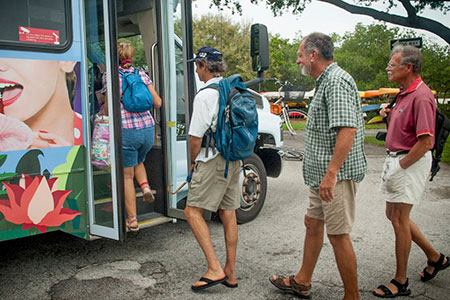 The following policies apply to passengers riding the GoLine:
Shirt and shoes are required at all times.
No smoking is permitted.
No profanity is permitted.
No food or drinks may be consumed by passengers on the bus.
Radios may be used with headphone only and are not to disturb the driver or other passengers.
Creating any disturbance is not permitted.
Destruction of GoLine property is not permitted.
Violation of any rule(s) may result in removal and/or denial of service. GoLine reserves the right to deny service for probable cause.
GoLine  Transfer Stations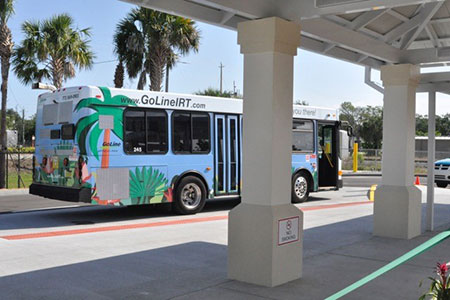 GoLine County. Transfer stations are at the following locations:
Main Transit Hub: Route 1, Route 2, Route 3, Route 4, Route 6, and Route 8 connect on the half hour.
Gifford Health Center: Route 3, Route 8 and Route 14 connect on the hour. 
Indian River Mall: Route 2, Route 13, and Route 9 connect on the hour. Route 7 and Route 14 connect on the half hour. 
North County Transit Hub: Route 5, Route 9, Route 10, and Route 12 connect on the half hour. 
South County IG Center: Route 4, Route 6, Route 7, and Route 15 connect on the hour. 
US 1 and Barber Street: Route 11 and Route 12 connect on the hour. 

Every effort has been made to ensure the accuracy of the Indian River Transit GoLine bus schedules and of the GoLine bus information provided in this brochure. Indian River Transit assumes no responsibility for errors or omissions.